You must be approximately 6-12 weeks to schedule this test. This limited ultrasound screening is a service for expectant mothers that have had a positive home pregnancy test and needs an accurate confirmation of viability and dates.
What will I receive
Confirmation of Heartbeat
Confirmation of due date
Detailed Preliminary report
Ultrasound photos
Texas Proof of Pregnancy form
---
Do I need a proof or prenatal care or a doctors referral for this ultrasound?
No, this is a limited pregnancy screening to confirm dates and viability. Our Medical director will provide a required Texas state form in order to provide your screening test.
How can I qualify for this screening? You must be 6-12 weeks and have not had your first regular doctors visit.
I am not sure how far I am in my pregnancy. Can I schedule this screening? We recommend using the date of your last menstrual cycle to determine an estimate of your dates. Please note: You must be 6-12 weeks for this screening.
Can I see a doctor during my visit? No we do not provide a visit with a physician during your screening. Your ultrasound screening is completed by a diagnostic medical sonographer.
Will I receive my results the same day? Yes you will get all results after your test.
How can I find out more details regarding this screening? Please read the terms and conditions below to ensure this screening is the right test for you. You may also call our office to speak with our staff.
---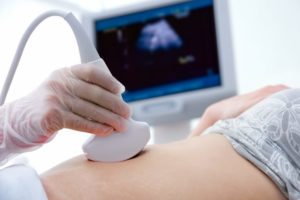 Debe tener aproximadamente 6-12 semanas para programar esta prueba. Este examen de ultrasonido limitado es un servicio para las futuras madres que han tenido una prueba de embarazo en el hogar positiva y necesita una confirmación precisa de la viabilidad y las fechas. La prueba incluye citas y un adelantado.informe de confirmación de embarazo (Prueba de embarazo de Texas) de nuestro director médico. Disponible de lunes a viernes y fines de semana, incluidos los domingos seleccionados. Las citas vespertinas y dominicales deben reservarse en línea y pagarse por
Terms and Conditions
Be advised that this is a limited ultrasound screening. This is not a anatomy scan. We DO NOT provide results to your doctor or midwife and that a order form from your doctor is required to complete a full diagnostic ultrasound with a radiology report. We do not provide blood work to confirm the dating of your pregnancy and that your dates and results may vary depending on the current fetal growth changes at the time of your ultrasound.
Disclaimer: We are not your healthcare provider and it is very important for you to seek a obstetric doctor, midwife or nurse practitioner for regular pregnancy care. Factors related to the absence of intrauterine pregnancy can be a result of but not limited to a very early pregnancy (under 5 weeks), mis-abortion or ectopic pregnancy. Confirmation pregnancy ultrasound test results may be limited due to unknown health factors or conditions of the mother or fetus. Due to certain risk factors during pregnancy we advise you to seek emergency medical care if you experience heavy bleeding or extreme pelvic/back pain.
---